About our Early Years Hubs
The centres provide modern facilities and improved services to young children and their families in Knox.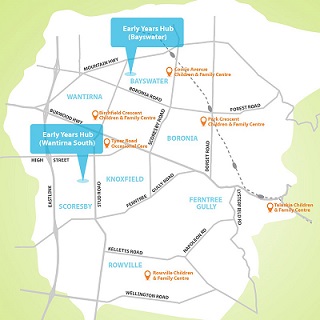 Each hub includes:
Maternal and child health
Four-year-old sessional kindergarten
Playgroups
Long daycare
Occasional care (Wantirna South only).
Careful consideration was given to the design of the hubs to make sure they meet the needs of all children, including providing safety for younger children as well as challenging older children.
The specially designed centres are at:
81 Argyle Way, Wantirna South (formerly the Knox Gardens Preschool site)
41 Phyllis St, Bayswater (formerly the Blue Hills Children and Family Centre site).
Construction
Both projects began in June 2018.
In line with our sustainability philosophy, building materials from the old buildings were recycled or repurposed, with a significant portion going toward the women's refuge in Lilydale.
Even trees that were removed were used in landscaping the new playspace or at other Council playgrounds in our community.
Check out our time-lapse videos
Watch our time-lapse construction of the Wantirna South centre:
Watch our time-lapse construction of the Bayswater centre:
Awards
2020 LGPro awards
The LGPro Awards for excellence recognise and celebrate outstanding projects and initiatives being delivered by Councils across Victoria.
In 2020, both projects were finalists in the category of Community Assets and Infrastructure - Over $2 million.
2019 International Architectural MasterPrize awards
The Bayswater project was announced winner of the Architectural Design/Green Architecture category in the 2019 International Architectural MasterPrize Awards.
This award is one of the most respected in the architectural field.
Find out more about the design of the Bayswater Early Years Hub.
Need help?
Contact us and we will come back to you.
Or call our Customer Services team on 9298 8000.