What a fantastic time was had in Knox celebrating Biodiversity Month 2022!!
Throughout the month of September, many activities and events took place that helped us discover, celebrate and enjoy the bushlands and species native to our community. Some of the key highlights were:
Biodiversity Blitz
The Biodiversity Blitz saw people from 10 neighbouring Council's collectively contributing more than 29,500 observations of local plants, trees, birds and insects to the iNaturalist app. Of these, Knox recorded 1,881 observations of 597 different species.  Some of the most common observations were of Magpies, Australian Wood Ducks, and Rainbow Lorikeets. Other observations included echidnas and sugar gliders.
See here for more information.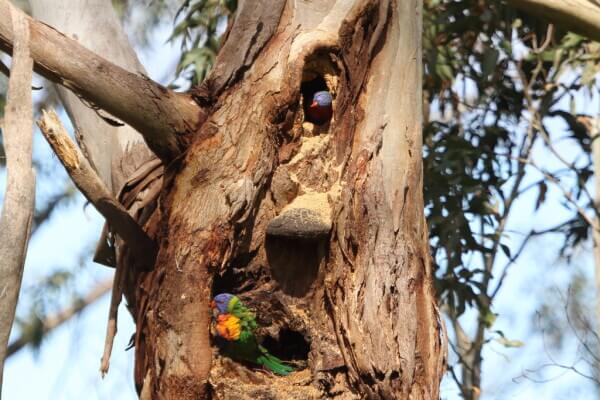 Photograph courtesy of Rae Nunan on iNaturalist as part of the 2022 Biodiversity Blitz.
Environmental Friends Groups
Through wind, rain and the occasional burst of sunshine, community members rolled up their sleeves and joined local environmental groups to help revegetate and weed some of our beloved local bushlands and green spaces.
There was also plenty of time for festivity as the work and achievements of two long-standing groups were celebrated - Knox Environment Society's 40th Anniversary and Friends of Blind Creek Billabong's 21st Anniversary.
To learn more, see eNews article Volunteer Biodiversity Group Anniversaries.
Friends of Blind Creek Billabong celebrating their 21st Anniversary with Mayor Susan Laukens and Councilor Yvonne Allred.
Knox Nature Discovery Passport
Exploring local bushlands was made fun and easy using the Knox Nature Discovery Passport.  Friends and families all over Knox ventured to reserves and bushlands to discover and log their findings of playgrounds, walking tracks, wildlife and wildflowers on the geocaching site and take part in a digital treasure hunt.  To date, the hidden containers and stamps at each of Knox's bushland reserves were used to log the discoveries 3,070 times!
Knox Tree Trails
Many people also used Biodiversity Month as an opportunity to appreciate our old and beautiful trees through the Knox Tree Trails series. Gecko the Yarra Gum in Rowville was by far our most loved and visited tree across the month.  Gecko was emailed and answered questions about nature, his friends, and even Santa!
Thank you and congratulations to everyone who participated in Biodiversity Month 2022.
What's coming up next?
Just because Biodiversity Month is over doesn't mean the nature discovery stops!  From Monday 17th to Sunday 23rd October, the Aussie Backyard Bird Count begins.  Spend 20 minutes outdoors and count the number of birds you see. You can then upload your observations to Aussie Bird Count by Birdlife Australia and use their inbuilt "bird finder" tool to identify the different species.
Refer to Birdlife Australia for more information.
How do you stay up to date with Knox's latest news - social media, website, community newspapers?
Complete our survey and go in the draw to win one of five $100 Coles-Myer vouchers!