A new apartment building in Bayswater has been recognised for its design excellence and important contribution to housing diversity in the municipality at the Knox Design and Development Excellence Awards on Monday night. The designer of the apartment building, Toby Lauchlan of ClarkeHopkinsClarke, was presented with The Knox Award, which is given to the most outstanding project from the winners of the Awards.
Knox City Council Mayor, Cr Lisa Cooper said the new apartment building stood out as an outstanding model for housing, and provides for the diversity of housing needs and the growth we have in Knox. She said it is an example of high density living that is thoughtfully designed to avoid being imposing and bulky on the local landscape.
The Awards saw five other local projects also receive recognition. Award winning projects are all built structures that meet the needs of the community, provide examples of the types of development needed in Knox and set a high benchmark for new developments in our municipality.
'The award winners were all chosen for displaying excellence in functionality, environmentally sensitive design and the ability to balance development with Knox's 'green and leafy' character,' Cr Cooper said.
'I congratulate all the nominees and winners for their work in showing us the impact good design can have on our local neighbourhoods.'
 Awards of Excellence were presented to:
Activity Areas category: Toby Lauchlan of ClarkeHopkinsClarke for the design of the apartment building in Bayswater
Industrial Projects category: peckvonhartel for the design of the new Operations Centre for Knox City Council at 14 Henderson Rd, Knoxfield
Civic and Institutional category: Anthony U and India Mitchell from k20 Architecture, for the design of the Knox Children and Family Centre in Phyllis St, Bayswater.
Commendations were presented to:
Landscape category: Hansen Partnership for the design of external spaces at the Knox Children and Family Centre in Phyllis St, Bayswater
Landscape category: Katherine Masiulanis from Leaf Design Studio, for the refurbishment of the play space at Marie Wallace Reserve, Bayswater
Landscape category: McGregor Coxall for delivering the Knox Open Space Project at Quarry, Tormore and Templeton Reserves.
The winners were selected from projects completed over 2019 and 2020.
2021 Winners
Congratulations to the winners and commended for this year's awards. It was wonderful to celebrate and acknowledge outstanding design and development that enhances Knox's built environment.
Activity Areas – Award of Excellence
Designer: Toby Lauchlan
Project: Bayswater apartment
Nominated by: ClarkeHopkinsClarke Architects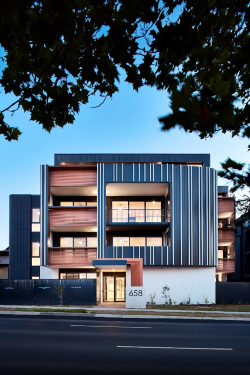 This project stands as an excellent example of contemporary midrise mixed-use infill as anticipated within the Bayswater Major Activity Centre, and other like nodes within the greater Knox municipality. It sets a particularly high benchmark with respect to the burgeoning growth of apartment housing in Knox's designated Activity Centres, in proximity to outstanding services and facilities.
Comprising 24 apartments and ground level Office space, this well-appointed 4-storey form sits side-by-side with its commensurate neighbour, each stepped purposefully around a retained established canopy tree (eucalypt) to the street frontage. The careful composition of the front and side elevations, with prominent ground-level entry and exposed upper-level balconies allows for successful engagement with the street frontage. The judicious 'division' of sizeable front and side elevations, through varied building setbacks, materiality and geometric framing ensures that the building will contribute successfully to a new 'common order' along the Highway frontage, with notable functional and sustainable features.
This is a project that deserves the 'Award of Excellence' for Activity Areas.
The Knox Award
Designer: Toby Lauchlan
Project: Bayswater apartment
Nominated by: ClarkeHopkinsClarke Architects
The judges unanimously recognize the importance and influence of the midrise mixed-use development, in Bayswater as a benchmark worthy of the highest accolade – the Knox Award for 2021. Already granted an 'award of excellence' for its contribution to its Activity Centre setting, this project stands out as a contemporary model of integrated housing specifically sought through Local Planning Policies in Bayswater and other like Activity Centres in Knox.
Impressively, the project's typology, form and design has been tailored to the emerging needs of local users and the distinctive Mountain Highway boulevard context. Whilst boldly modern in profile and presentation, the design (together with its neighbour) clearly 'belongs' in Bayswater - with a configuration and complexion that embraces landscape, spaciousness with attractive aspect and outlook to nature. These attributes are coupled with notable active and passive sustainability measures framed both within development's layout and also within apartment accommodation that achieves a 6.6 star energy rating (more than required or expected).
New housing is key to continued activation and sustainable growth within Knox's Activity Centres – and this template serves as an outstanding replicable model.
It is deserving of the Knox Award.
Industrial Projects – Award of Excellence
Designer: peckvonhartel
Project: 14 Henderson Road, Knoxfield.
Nominated by: peckvonhartel
Photography: Willem-Dirk du Toit
The design of industrial operations in Knox is important as a demonstration of compatible, sustainable and user-friendly development in a typically utilitarian sector. This project illustrates a fresh replicable approach at many levels. Firstly, the site plan is bespoke with an elegant, rhythmic (largely glazed) frontage to street behind a well landscaped belt of parking, with defined pedestrian access and address. The frontage conceals all industrial operations and works behind. Secondly, the building program is carefully arranged into different sectors, with ground level operations and an open plan upper-level office with shared spaces (both indoor and outdoor) arranged to invite collaboration, outward aspect and surveillance.
Thirdly and finally, the design introduces rare detailing and materiality with impact, through use of familiar robust concrete (industrial) finishes in tandem with tactile raw and painted timber. This elevates industrial design to a higher level in terms of its character contribution, deserving of the 'Award of Excellence' for Industrial Projects.
Civic/Institutional – Award of Excellence
Designer: Anthony U & India Mitchell
Project: 41 Phyllis St, Bayswater
Nominated by: k20 Architecture
Photography: Peter Bennetts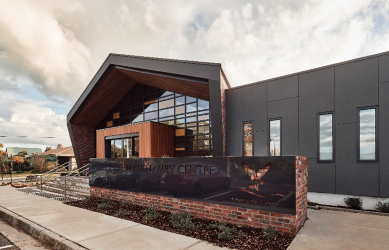 The design of Civic and Institutional buildings in suburban contexts is challenging, noting the need to be both compatible with and distinctive from the domestic surrounds. This delightful Community Facility successfully negotiates with its context and courageously addresses its elevated position and corner with a projecting gable which frames the stained-glass entry and invites visual attention and access. The building is connected to the public realm on 3 sides and tailored to each side in response to the context of the abuttals.
Along Phyllis Street, this is demonstrated with the familiar materiality of brickwork with vertical framed windows facing the remnant Church opposite. To the north (to capture sunlight), this is illustrated through a generous U shaped courtyard framing a large remnant Eucalypt. The composition of the street facing elevations and consciously 'referenced' materials which link to the suburban context of the greater site (brick and timber cladding) ensures that this important function is 'at home' in its surroundings. Importantly, diversity in colour and form is inviting to its diverse users.
This is a project which is deserving of the 'Award of Excellence' for civic and institutional projects.
Landscape Design - Commendation
Designer: Hansen Partnership
Project: 41 Phyllis St, Bayswater
Nominated by: Hansen Partnership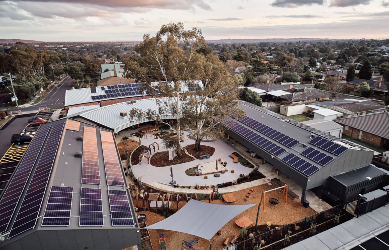 The design of external spaces within this integrated Children and Family Centre has an important role in delivering functional amenity spaces, while also reflecting on locally relevant contemporary themes such as inclusion, collaboration, education, memory and environmental sustainability. External works are not confined to the fringes, rather they are a foundation for the entire complex, framed around the stately eucalypt in the northern courtyard.
The arrangement of the Centre (and fluid interaction between indoor and outdoor spaces) ensures that landscape forms part of the everyday user experience. The courtyard design incorporates elevated timber decks together with organic surfaces, with discrete precincts offering opportunity for imagination play, water sand and dirt interaction, and sound vibration engagement. Each precinct includes demonstrations of sustainable practice, through plant material and active water management.
This project warrants a 'Commendation' in the Landscape Design category.
Landscape Design – Commendation
Designer: Katherine Masiulanis
Project: Marie Wallace Reserve, Bayswater
Nominated by: Leaf Design Studio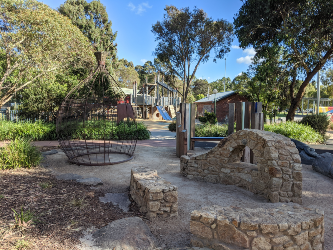 The sensitive refurbishment of the sprawling (and historic) Marie Wallace Reserve Playspace has been judiciously undertaken with a keen awareness of the varied interests and experiences of its many intergenerational users. The park and playspace (in particular the train platform and railway feature) have been a staple in Bayswater for decades, and the careful refurbishment of ageing infrastructure with new explorative play and adventure precinct serves as an excellent case study in parkland rehabilitation. This has not sought to 'redefine' the image or character of the place – rather, via a process of audit and subtle improvement progressively maintain the park's integrity, adding a fresh layer of understorey native landscape while also meeting obligatory contemporary safety standards.
The new southern expansion (adjoining Mountain Highway) has been beautifully executed with native planting, sandstone mounding and artful framed follies. This project deserves a 'Commendation' in the Landscape Design category.
Landscape Design – Commendation
Designer: McGregor Coxall Project: Knox Open Space
Project. Quarry, Tormore and Templeton Reserves
Nominated by: McGregor Coxall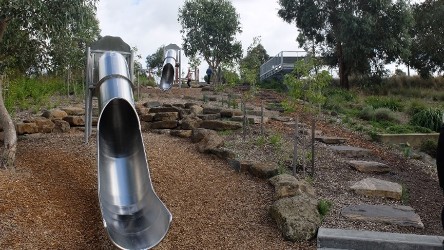 The Knox Open Space Project is an innovative strategic initiative demonstrating how to appropriately introduce contemporary (recreational and amenity) interventions into existing reserves in order to enhance their functionality, amenity and local meaning. Rather than adopting a common suite of treatments for all 3 parks, the designers have carefully considered local references or features and subsequently designed a bespoke outcomes that effectively 'fit in' to their local urban, cultural or environmental context. Notably, the integration of metal viewing decks, nature play and valley stepping stones at the Quarry Reserve contrast with the more domestic exotic (period) influences found at Tormore Reserve.
While treatments at Templeton Reserve are more subtle ;- the overarching methodology of research, intervention, and implementation is well executed. This project deserves a 'Commendation' in the Landscape Design category.
Nominations were not received in the following categories
Bush Suburban
Knox Neighbourhood
Local Living
About the awards
Knox Council founded the biennial Knox Design and Development Excellence Awards in 2019 to celebrate and acknowledge outstanding work in the design and building industry that contributes to better outcomes in our built environment. These awards are part of Knox Council's commitment in working with the community and industry to improve design and development outcomes in our municipality.