Another impressive artwork to visit is Alley Oop, the sculpture that sits at the entrance to the State Basketball Centre in Wantirna South.
The Wantirna Trail is approximately 7 km. Consider driving or use one of the walking trails to weave through the area.
Major commercial precincts include Westfield Shopping Centre and Knox Library.
Browse the Blind Creek Trail.
1. Paloma Lane mural, 2021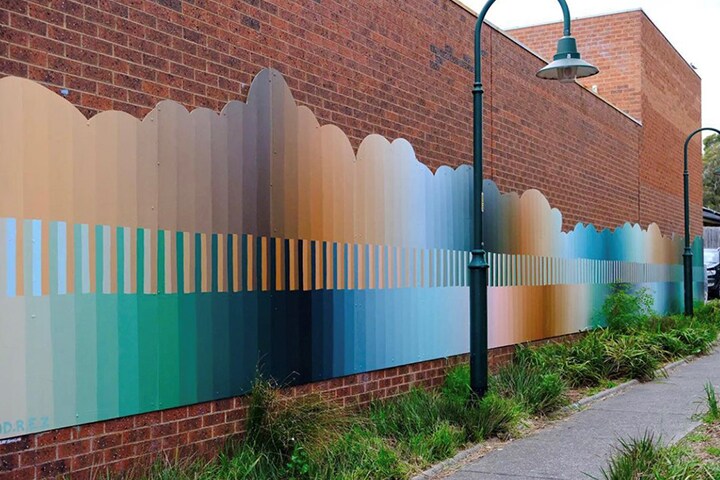 Artist: Callum Riley (aka DREZ)
Location: Paloma Lane, between 1322 and 1324 High Street Road, Wantirna South.
This orange and green geometric mural by Drez references modernism and op art, shifting and elevating perceptions of graffiti and art in public places. Using urban structures as his canvas, Drez responds with colour gradients, following the form of the location, subverting these structures to create immersive spaces of colour.
2. Paloma Lane light box gallery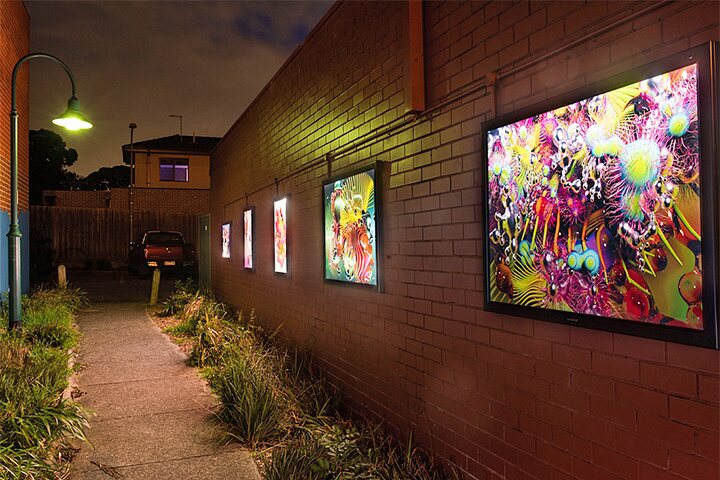 Location: Paloma Lane, between 1322 and 1324 High Street Road, Wantirna South.
The Paloma Lane light box gallery was installed in 2021 and features work from local artists, with exhibitions rotated every six months. Recent exhibitions have showcased work by art students from Swinburne's Wantirna Campus.
3. ANZAC Girl sculpture, 1999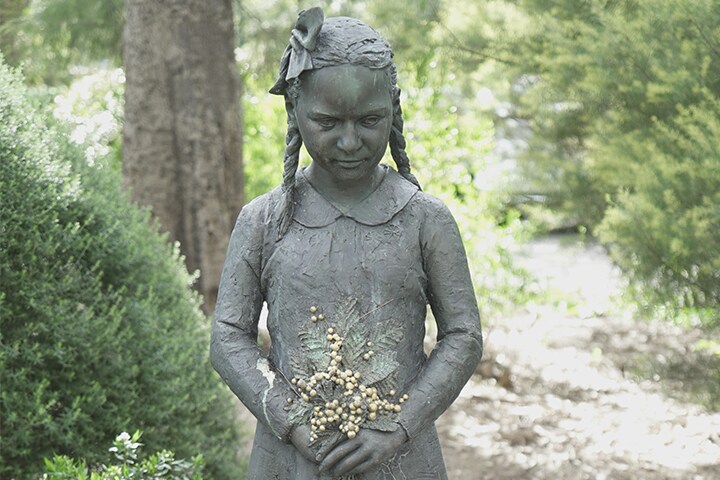 Artist: Peter Corlett OAM, commissioned by Knox placemakers.
Location: Knox City Council Civic Centre, 511 Burwood Highway, Wantirna South. Garden facing north east.
This is a bronze memorial statue of a young girl holding flowers, titled Anzac Girl. While this memorial is a tribute to the Anzacs, it also honours the brave heroes who lost their lives in World War II (1939–1945). This work of bronze created by sculptor Peter Corlett OAM sits upon a bluestone block in the garden on the east side of the Knox Civic Centre.
4. Recycled Bike Path sculpture, 1980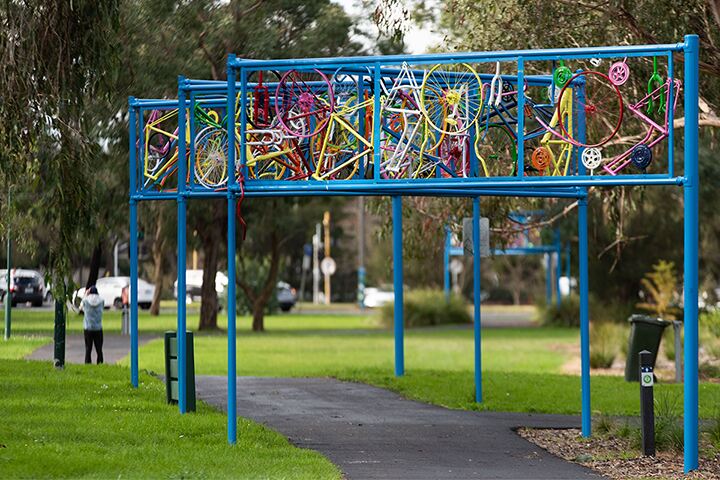 Artist: Rex Keogh and Knox residents.
Location: Collier Reserve, 81 Alderford Drive, Wantirna.
The iconic bicycle sculpture at Collier Reserve in Wantirna is made from recycled bicycle parts and is a landmark feature of the Blind Creek Trail. The sculpture was originally created by Rex Keogh in collaboration with Knox residents as part of the Placemaker Legacy Program. The work underwent major restoration in 2022, with missing parts replaced, rust removed and the work repainted.
5. Wall to Wall Wantirna mural, 2017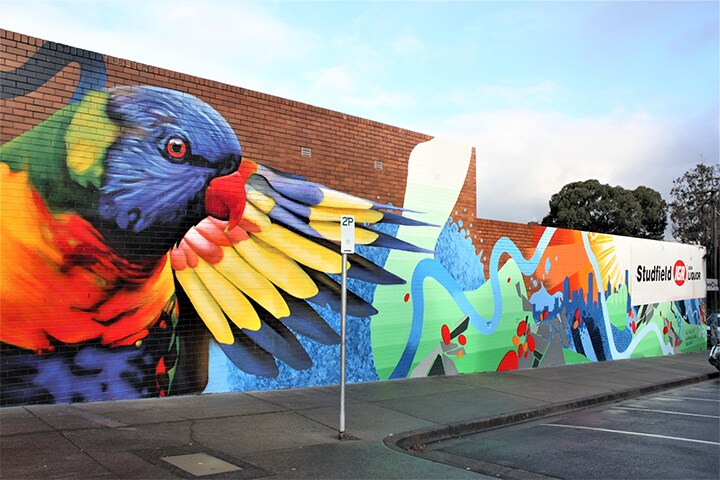 Artist: Matt Thompson, Carmen Davies and James Beattie (aka D-V-ate).
Location: Studfield Shopping Centre, 193 Stud Road, Wantirna South. North facing wall of IGA Supermarket.
This work was created as part of the Wall to Wall Mentoring Program managed by Knox City Council and funded by the Department of Justice. This mural is located at Studfield Shopping Centre and was created by Wantirna College students, mentored by MT Design (Matt Thompson) and Graffix Creative (James Beattie and Carmen Davies). The program taught students a variety of street art skills through assisting with the design and painting the wall.
6. Alley Oop sculpture, 2012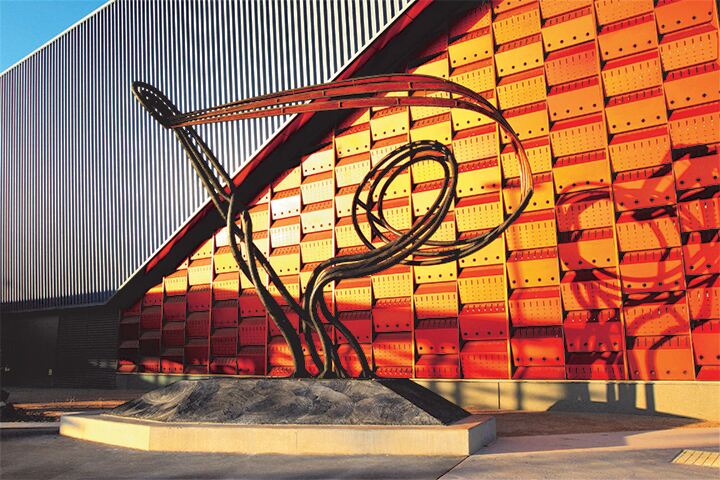 Artist: Corey Thomas.
Location: Knox State Basketball Centre, 291 George Street, Wantirna South.
This stainless steel and fibreglass sculpture is based on a popular basketball manoeuvre called an 'alley-oop'. Sculptor, Corey Thomas, has captured the dance-like movement of an athlete executing the offensive move to a teammate. Alley Oop was commissioned by Knox City Council in 2012 as part of the construction of Victoria's State Basketball Centre at Knox Regional Sports Park.