Public art in Knox
The Knox Public Art collection includes a variety of striking artworks displayed in public spaces throughout Knox, that help beautify and enhance a sense of positive connection to community precincts. Knox features some iconic major works by renowned public artists, including Matt Calvert, David Booth (aka Ghostpatrol), and Carla McRae.
Knox is also home to a series of public art platforms, including the Billboard at Gilbert Park Skate Precinct, and the Light boxes series within pedestrian laneways throughout Knox. These platforms allow the rotation of collection artworks, photographs and public exhibition programs such as Knox Immerse.
Check out some of these artworks around Knox: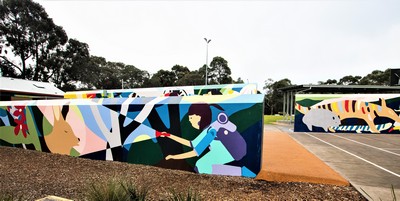 Public artwork mural by David Booth (Ghost Patrol) and Carla McRae located at Marie Wallace Reserve, Bayswater.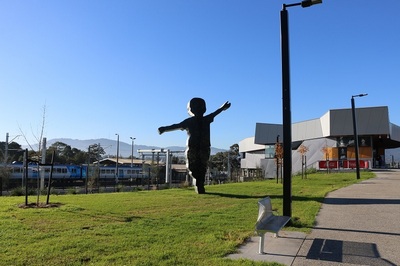 Aeroplane Boy by Matt Calvert, Bayswater train station.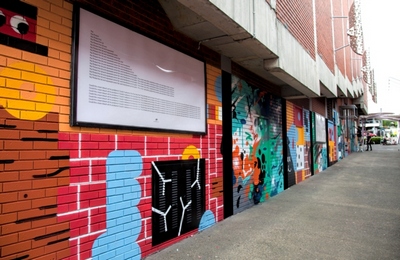 Cinema Lane Lightboxes, Boronia
Mural: Metro Mural, ASKEM and OG23,
Cinema Lane, Boronia Lightbox: Fair & Handsome, Matt Blackwood, Immerse 2015.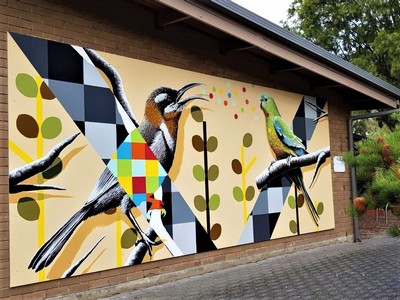 Share Your Colour, Brenton See, 2017, Ferntree Gully Library.
Reach for the Stars, Fausto Gallego, 2016, Knox Skate and BMX Park, Knoxfield.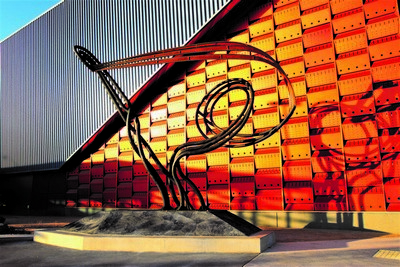 Alley Oop, Corey Thomas, State Basketball Centre.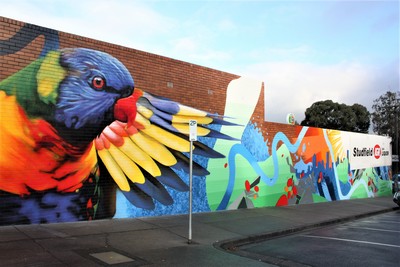 Wall to Wall Mentoring Program 2017, Matt Thompson, James Beattie and students from Wantirna Secondary College, Studfield Shopping Centre, Wantirna South.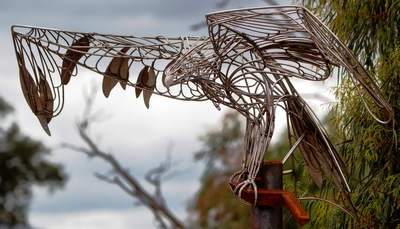 Perspectives on Place: Bunjil Way, Benjamin Gilbert, Xavier Pinard, James Simon and Wurundjeri elder Bill Nicholson, Indigenous students St Josephs College, 2012, Bunjil Way, Scoresby.
Connecting to Place, Connection to People, Carmen Davies and James Beattie with Bayswater community, 2017, Bayswater Railway station underpass.

Breathe, Ashley Goudie, 2017, Knox Leisureworks, Boronia.

Timelapse video of the new mural at the Knox Community Arts Centre

Video interview with artists David Booth and Carla McRae (Part One)

Video interview with artists David Booth and Carla McRae (Part Two)