Boronia offers a diverse shopping experience with a wide range of shops and lots of choice when it comes to dining. If you have time, play a game of ping-pong at Playpark 257 (257 Dorset Road) on the Creature Creature table tennis tables, with bats and balls available to loan from the neighbouring police station.
The Boronia Trail is approximately 4 km and suitable for walking or cycling.
Beautify Boronia was funded by the Victorian Government, through the Department of Jobs Precincts and Regions Suburban Revitalisation Fund 2021–2022.
Boronia Laneway and Arcade Renewal was funded through the Victorian Government Department of Jobs Precincts and Regions Suburban Revitalisation Fund 2021–2022.
1. Lupton Way murals, 2023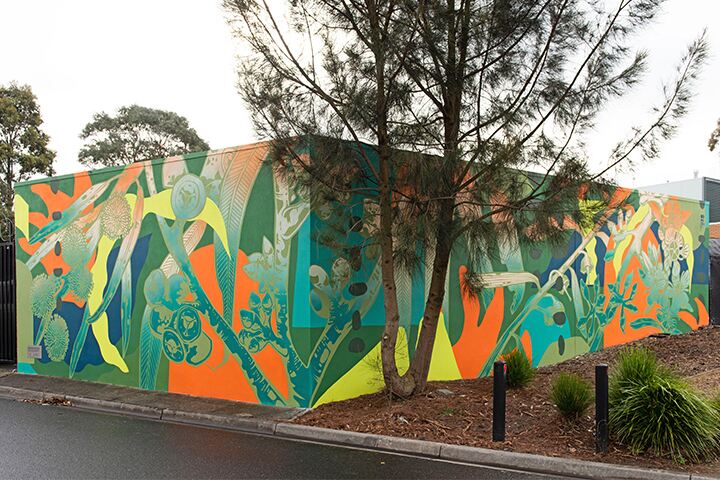 Artist: George Rose.
Location: Exterior of Boronia Police Station, corner of Lupton Way and 257 Dorset Road, Boronia (Playpark 257).
This series of three murals explores the artist's interest in endangered local flora. The largest mural appears prominently on the rear walls of the police station with two smaller murals that are visible from Boronia Station. Knox is home to several endemic and endangered plants that are represented in the murals, including cinnamon wattle, green scent bark and Yarra gum. Drawing attention to the local natural environment gives the community an artwork that is specifically ours.
2. Sun and Moon Ping-Pong Tables, 2022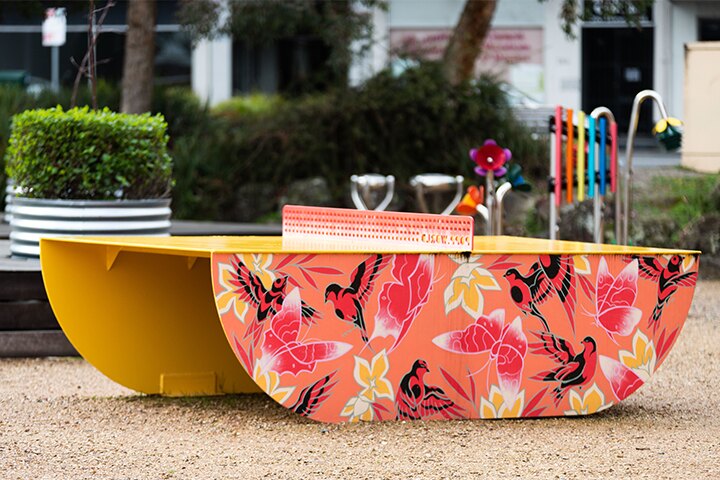 Artist: Ambrose Rehorek and Chanel Tang (aka Creature Creature).
Location: 257 Dorset Road Boronia (Playpark 257).
Two decorated ping-pong tables depict the images of the sun and moon and are adorned with images of flowers, birds and bats, reflecting local flora and fauna. Ping-pong bats and balls are available at Boronia Police Station.
3. Railway Arcade murals, 2022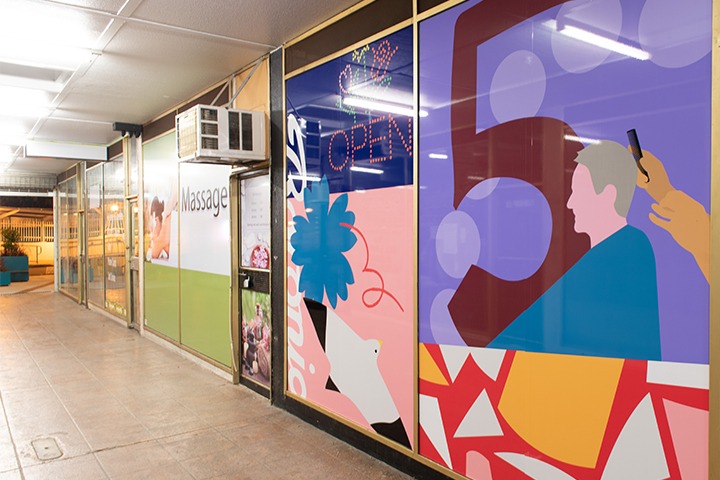 Artists: Carla McRae and Beci Orpin.
Location: Railway Arcade, 255 Dorset Road, Boronia.
Colourful decals adorn the windows of local businesses in this arcade, reflecting typical, local scenes. These images of hair being cut, cake and coffee, and a dog being walked brighten up the arcade that provides pedestrian access to Boronia Station.
4. Craves Lane mural, 2022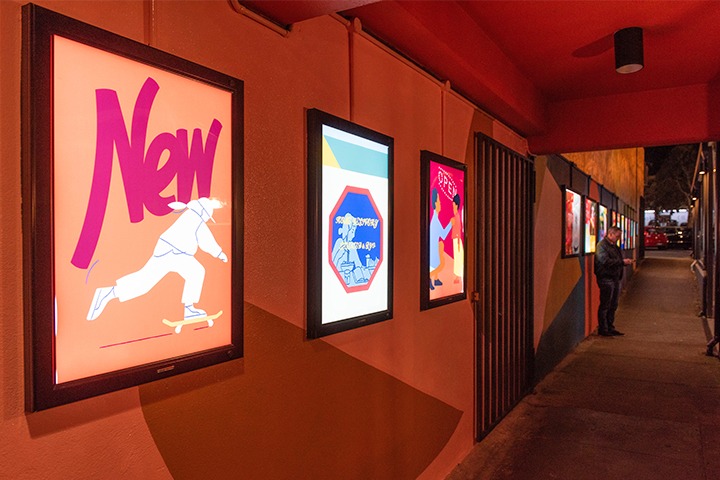 Artists: Carla McRae and Beci Orpin.
Location: Craves Lane, 238 Dorset Road, Boronia.
The mural represents the distant backdrop of the Dandenong Ranges and is located next to a light box gallery that lights up at night. The light boxes show images of the local community engaged in familiar activities in the Boronia shopping precinct.
5. AEC Arcade mural, 2022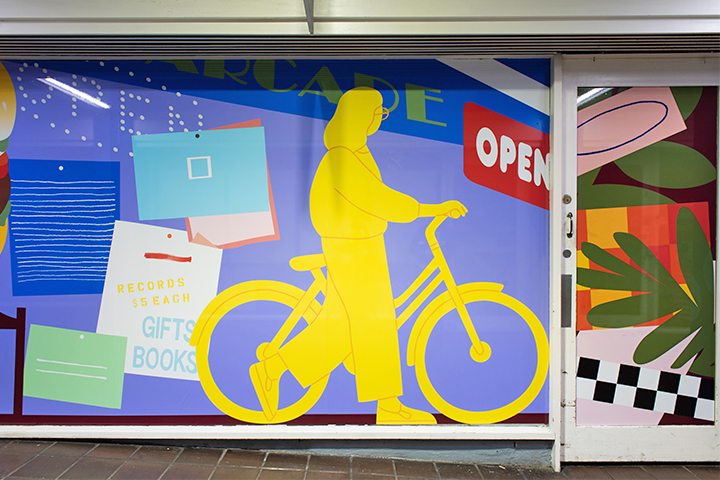 Artists: Carla McRae and Beci Orpin.
Location: AEC Arcade, 218–224 Dorset Road, Boronia.
Printed vinyls depict the simple joys and social connections made possible in local shopping strips. Using a graphic, colourful approach, the artists represent everyday activities specific to this community.
6. Metro mural and light box gallery, 2015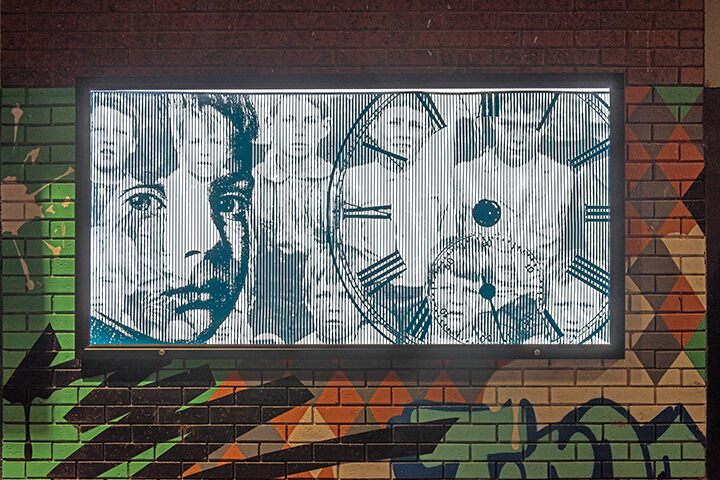 Artists: Leigh Ouwerkerk (aka ASKEM) and OG23.
Location: Cinema Lane, Boronia.
The large-scale abstract Metro Mural by ASKEM and OG23 was completed as a permanent installation as part of the Knox arts and cultural festival, Immerse 2015 program. The laneway locally known as Cinema Lane also features one of Knox Council's curated light box galleries where exhibitions are rotated annually
7. Superb Fairy Wren mural, 2016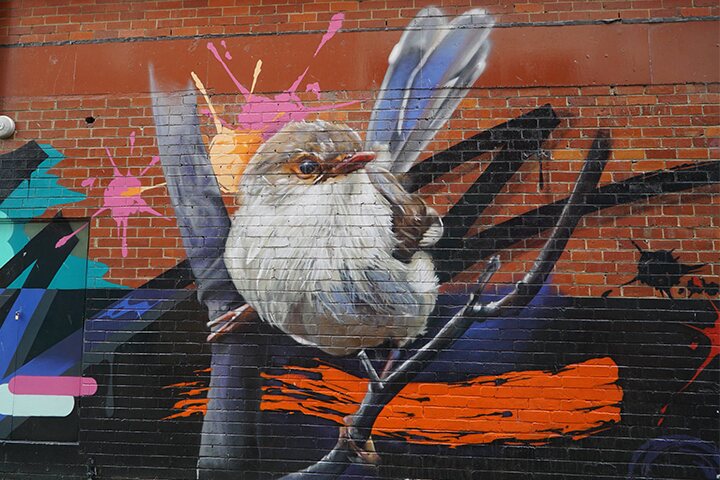 Artists: Leigh Ouwerkerk (aka ASKEM) and James Beattie (aka DVATE).
Location: Cinema Lane, Boronia.
A large superb fairy wren and abstract motifs make up this large-scale mural created by ASKEM and DVATE. This mural was commissioned as a permanent installation for Immerse 2016, Knox's biennial festival of arts and culture.
8 & 9. Boronia Flagpole Site mural and 217 Dorset Road murals, 2022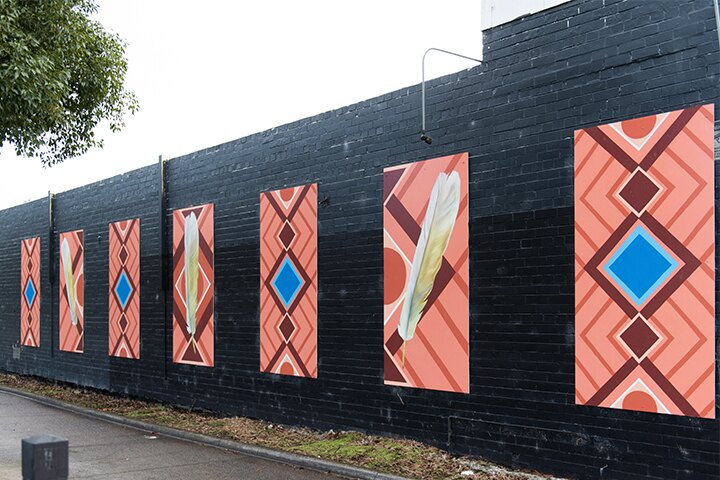 Artist: Kent Morris.
Location: 217 Dorset Road Boronia and flagpole site, located on Dorset Road near intersection of Boronia Road.
Through a First Nations lens, Kent Morris reveals the continuing presence and patterns of Aboriginal history, culture and knowledge in the contemporary Australian landscape. The interaction of native birds with the built environment reflects resilience, adaption, continuity and change to ecological systems, reflecting on the ways in which First Nations culture survives and adapts.
10. Boronia Library murals, 2022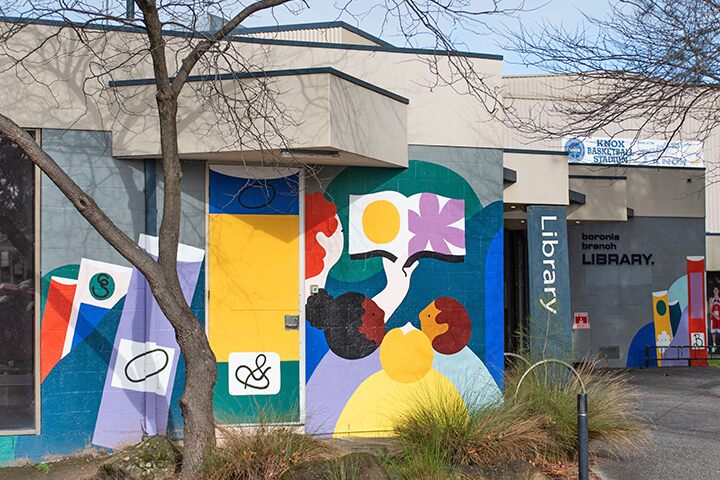 Artist: Carla McRae.
Location: Boronia Library, 7 Park Cresent, Boronia.
Murals on the exterior walls of the library feature blocks of colour, rectangular and geometric, where books are shown in heaving, leaning stacks. Artist McRae refers to a quote from author Sophie Mayer who describes a library as a place where, 'Each person is pursuing their own aim (education, entertainment, affect, rest) with respect to others, through the best possible medium of the transmission of ideas, feelings and knowledge: the book.'
11. Mollusc Sculptures - Snail and Beetle, 2001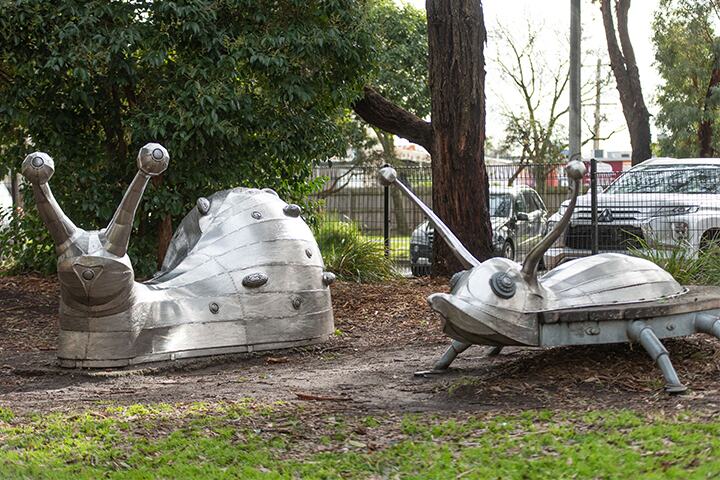 Artist: Down Street Studios.
Location: Knox Basketball Stadium, 7 Park Crescent, Boronia.
The whimsical Mollusc Sculptures located at the entry to the Knox Basketball Stadium and a stones' throw from the Boronia Library are very popular with children. Beautifully crafted, they are made to climb, sit and ride on. These works created over 20 years ago were beautifully restored in 2023.
12. Coachella mural, 2022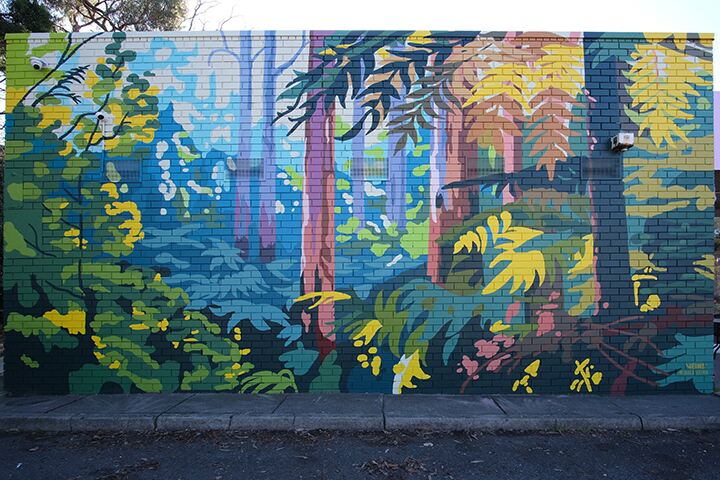 Artist: Christian Vine (aka VEINS).
Location: 22/163 Boronia Road, Boronia, exterior of Coachella Coffee Co.
The Christian Vine mural features local flora inspired by the enchanted surrounds of the Dandenong Ranges and highlights the dense lush scenery and gorgeous light that filters through the trees. The work features a magical patchwork of colour and form to create the overall effect and feel of the beautiful pockets of vegetation that inspire the artist.
13. Bird Song sculptures, 2012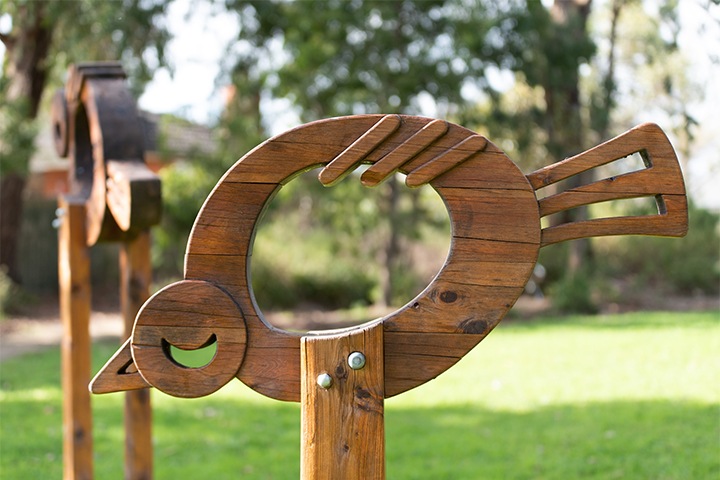 Artist: Velislav Georgiev.
Location: Arthur Klienert Reserve, 19 Dinsdale Road, Boronia.
If you would like to venture further afield, visit Bird Song at the Arthur Kleinert Reserve on Dinsdale Avenue. The three sculptures were created as part of redevelopment of the Arthur Kleinert Reserve and are a response to, and celebration of, the history of the site-packing sheds for the fruit grown in the orchard. The sculptures were conceived as a homage to birds foraging for the fruit surrounding the shed.