Sections of Blind Creek Trail will temporarily close from 8 May until June while works are underway to construct the new concrete paths. There will be signage along the path about the closures and detour arrangements will be installed in the project area.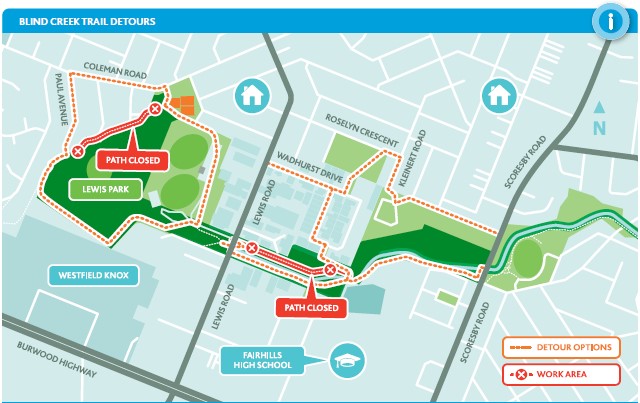 The Reimagining Blind Creek project is part of the masterplan for Lewis Park to create a connected green space for all to enjoy.
Melbourne Water is leading this project, in partnership with Council, the Department of Energy, Environment and Climate Action (DEECA) and Wurundjeri Woi Wurrung Cultural Heritage Aboriginal Corporation.
The project to naturalise Blind Creek from Scoresby Road into the Lewis Park precinct continues the amazing results of the 2020 project that naturalised the creek from Manuka Drive to Scoresby Road (Fairpark Reserve).
Naturalising the creek involves removing the underground concrete pipes and allowing the creek to flow in its natural state and establishing native plants and landscaping to support the environment.
For more information visit Melbourne Water.