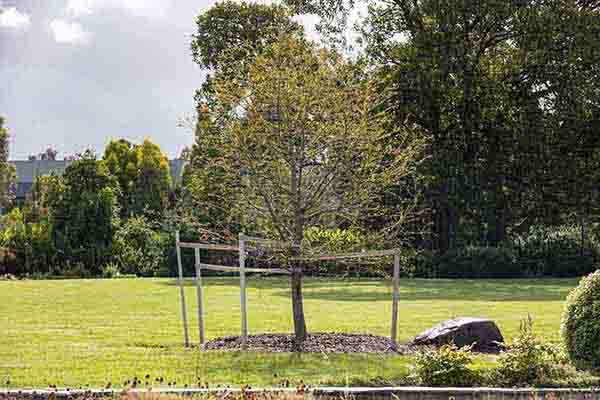 A tree plaque unveiling event was held on Wednesday 14 December to commemorate the platinum jubilee of Her Majesty, Queen Elizabeth II, and to honour her life's achievements.
The Australian Government provided a grant as part of a community-based tree planting program to commemorate Her Majesty, Queen Elizabeth II platinum jubilee (70 years of service).
Stamford Park homestead gardens in Rowville was selected as an appropriate location to plant this feature tree, Taxodium distichum, more commonly known as Swamp Cypress. This tree will enhance the homestead's garden and provide an additional green canopy for Rowville.
Stamford Park homestead is a magnificent example of 19th-century architecture featuring Gothic gables, fretted barge boards, intricate wrought iron and five-metre high ceilings. It is one of the last remaining substantial 19th century houses in the region.
The homestead was in an advanced state of disrepair when it was acquired by Knox Council in 1988. It has been restored and the expansive six acres of parkland is now graced with this new feature tree.
The final stage of the neighbouring wetland development is underway and expected to be completed late 2023, subject to weather. For project details visit our website
Stamford Park homestead is located in Emmeline Row, Rowville. See map