About the road reserve
The road reserve is all the land between property boundaries including footpaths and nature strips.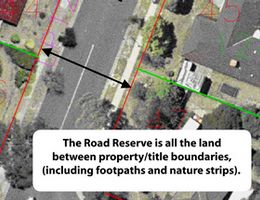 This includes:
road surface
footpath
nature strip
street or drainage reserve.
Road Opening Permit
You need to provide a site plan with your Road Opening permit application.
Site plan
The site plan must show the location of the proposed works and all the assets within the vicinity. Assets include everything that will be affected by the works, including:
trees
landscaping
road pavement
kerb and channel
drains
service authority assets
private assets.
Traffic management plan
This is required for all works undertaken on collector, industrial, and link roads as classified in our Public Road Register.
Online applications
Applications can be submitted online.
You will need to be registered to use our online service.
Apply for a Road Opening Permit online
Application process
Once we receive your application and fee, a Council officer will carry out a site inspection.
If your request is approved, you will receive the permit via email within 5 business days.
If your request is denied, an officer will contact you to discuss your application further.
If you would like any more information about applications, contact our Asset Preservation Officer on 9298 8195.
Council Reserve Access Permit
If you need to access Council owned or managed land, you need a Council Reserve Access Permit.
Operational guidelines
We provide operational guidelines on vehicle crossings. These include:
Need help?
Contact us and we will get back to you.
Or call our Customer Services team on 9298 8000.