View your rates
You can view your current rates notice online if you are already registered to receive eNotices
To register to view future rates notices online and receive emailed notices sign up at knox.enotices.com.au
You'll need your eNotices reference number in the top section of your rates notice (see 2. in the picture below)
 

Your rates notice

There's two reference numbers on your rates notice that you need for online services:
Your 7-digit rates assessment number
Your eNotices reference number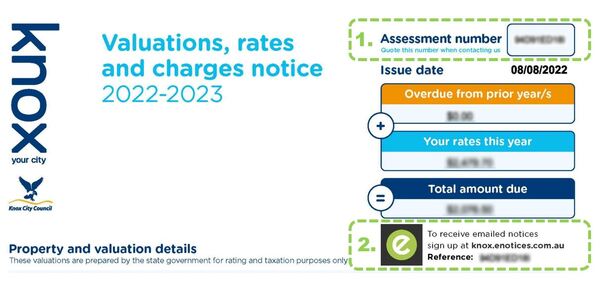 Reprint a rates notice
You can request another copy of your rates notice online: you can request a reprint.
You'll need your 7-digit rates assessment number (see 1. in the image below)
All online requests will be actioned within 5 working days during opening hours.
Knox City Council's budget
Each financial year Council prepares an annual budget based on the priorities of our Community and Council Plans.
The 2022 to 2023 Annual Budget details how rates will be spent to maintain and deliver the services and facilities our community values and relies on. 
Once we have worked out our total spend, then we look at income sources. This includes rates. 
Rates represent approximately 70 per cent of Knox City Council's total income. 
How the rates are used
Service rates and charges fund hundreds of local services and programs that our community uses every day, such as:
sports and leisure facilities
waste management and recycling
libraries
health and safety
active ageing and disability services
parks and reserves
leisure, sports and recreation programs
festivals, arts and culture
services for youth
planning and development
and much more.
Rates capping
The state government's Fair Go Rates System (FGRS) directs that all councils are limited in how much more income they can earn from rates compared to the previous year. This is called the rate cap.
The rate cap is set each year by the Minister for Local Government. For the 2022-23 financial year the rate cap was set at 1.75 per cent.
Service charge for waste collection services
The most commonly used service charge is the Waste Service Charge for the collection and disposal or garbage and recycling.
The 2022-23 annual Residential Waste Service Charge is $298.
This charge applies to all residential properties in Knox that have access to Council's waste services.
The other waste charges change with your bin size.
The 2022-23 waste collection service charges include:
Industrial or commercial services
Fire Services Property Levy (FSPL)
The Fire Services Property Levy (FSPL) is set by the state government to fund the state's fire services.
It is included in your Council rates but given to the state government. All property owners must pay the FSPL.
Request an appeal
You can appeal against the valuation of your property.
If you disagree with the valuation of your property, you can send an appeal to Council under the Valuation of Land Act 1960.
If you disagree with a rate or charge set by Council, you may appeal to the County Court under section 184 of the Local Government Act 1989.
You can appeal on one or more of the following reasons:
that the land is not rateable land
that the rate or charge assessment was calculated incorrectly
that the person on the rates notice is not responsible for the rates.
Any appeal must be lodged with the County Court within 30 days of receiving the rates notice.
You cannot appeal to the County Court about the valuation of your property.
Need help?
Contact us and we will come back to you.
Or call our Customer Service team on 9298 8000.