Feedback on the proposal
Community feedback on the proposal for Norvel Estate closed on 21 July 2023.
Council will consider all submissions at the Council meeting on 27 November 2023 and decide whether to refer to an independent planning panel. Submitters will be notified of the opportunity to attend the Council meeting and to be a part of the panel hearing process.
We will make a copy of every submission for any person to inspect until the end of the 2 months after the amendment comes into operation or lapses. Submissions will be disclosed in full to the Council consultants (if applicable) who will make recommendations to Council regarding the submissions. Council and the state government may also publish submissions on their websites, provide copies of submissions, and make publicly available lists of submissions. Submissions may be disclosed in a report to Council which will by virtue of the Local Government Act 1989, be available to the public for an extended period.
About the Amendment
Norvel Estate is located between Norvel Road and Blind Creek valley in Ferntree Gully. Formerly known as 'Norvel Road Quarry', the site was used for clay extraction for the manufacturing of bricks from 1955 until its closure around 2009. The site is currently zoned for the purpose of earth and energy resource industry (Special Use Zone Schedule 2).
The Amendment proposes to rezone land from Special Use Zone Schedule 2 to:
Neighbourhood Residential Zone Schedule 7 (NRZ7) to allow for housing development (maximum 2 storeys), that is consistent with the surrounding residential area
Public Conservation and Resource Zone (PCRZ) to retain protection for the bushland area that has been identified as a Site of Biological Significance
It also proposes to rezone the north of Seecal Road Reserve from Special Use Zone Schedule 2 and Neighbourhood Residential Zone Schedule 4 to:
Public Park and Recreation Zone (PPRZ) to support the development of a shared path and bike trail connecting Castricum Place and Norvel Estate to the Blind Creek Reserve trail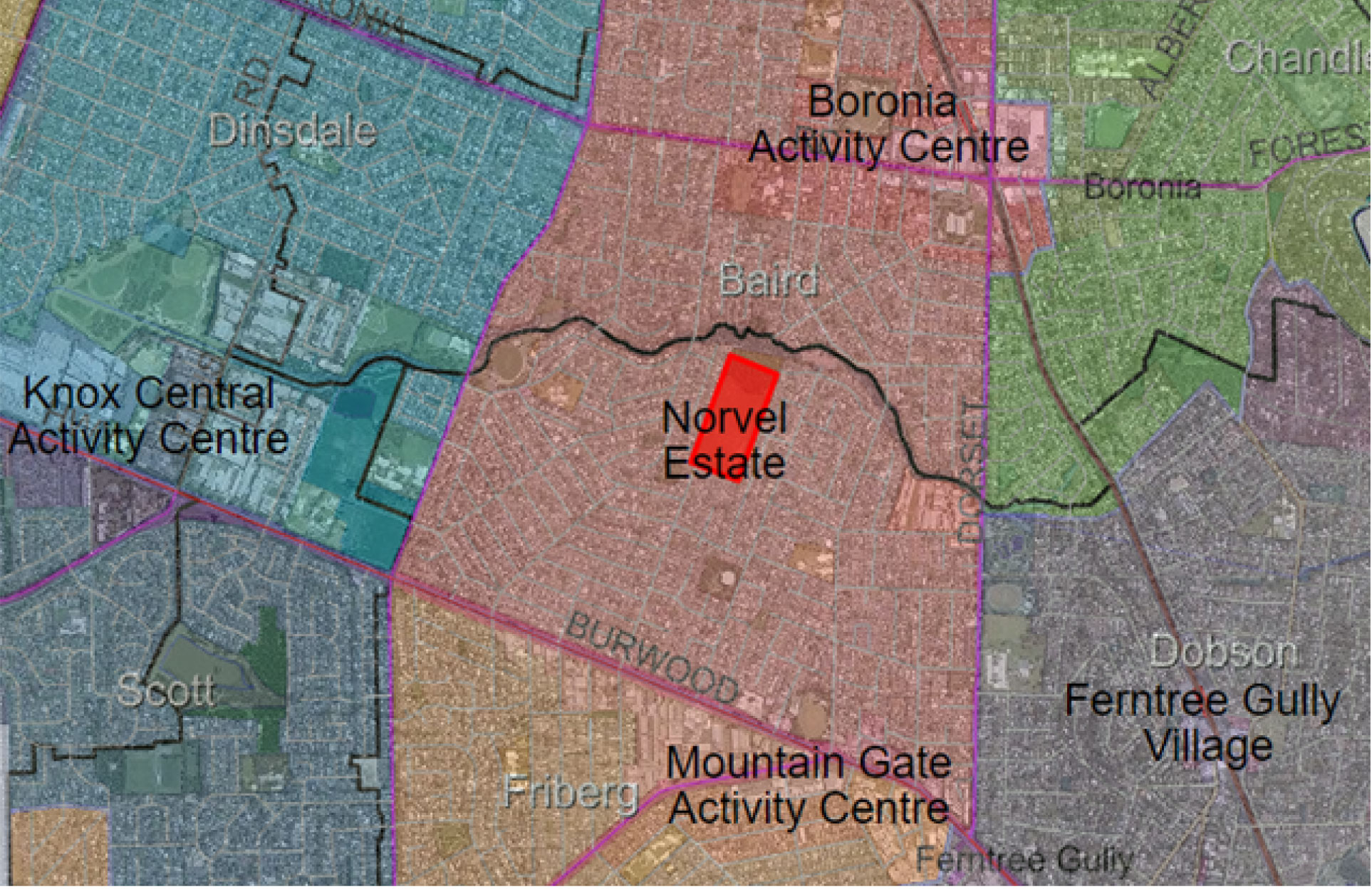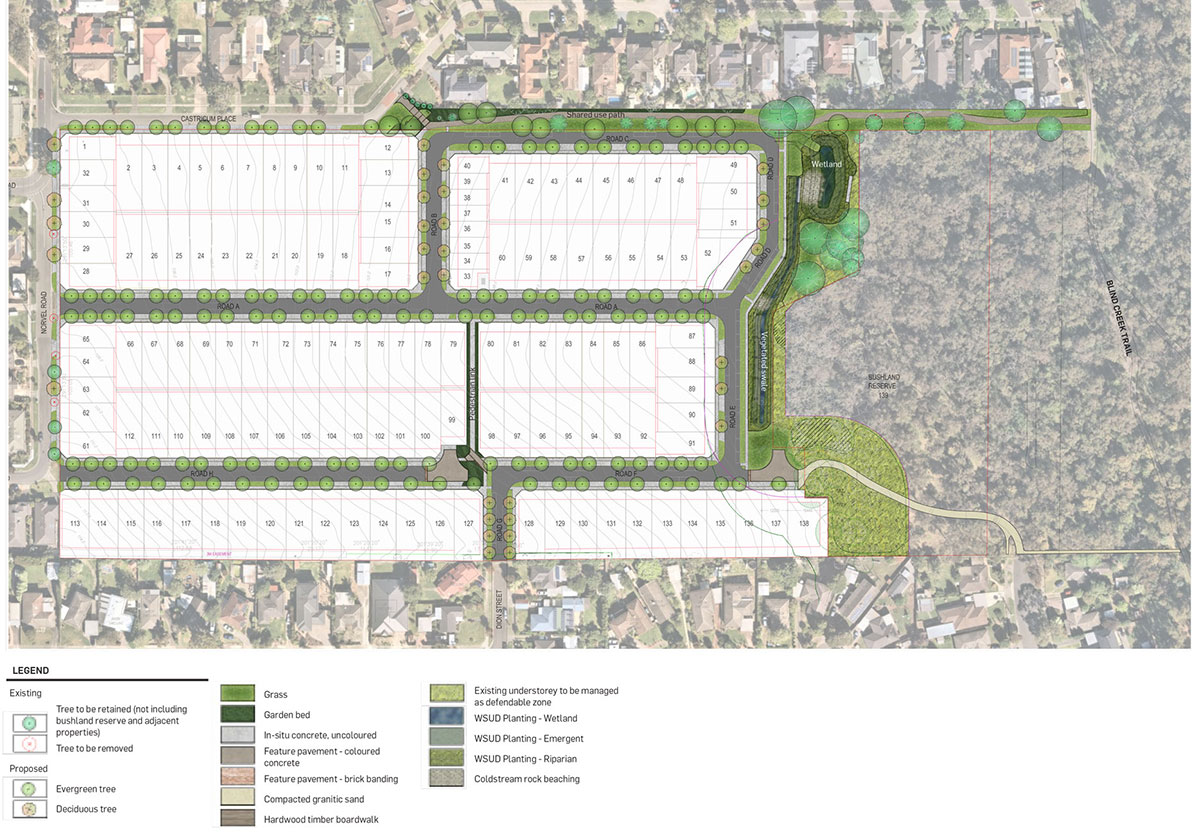 ✕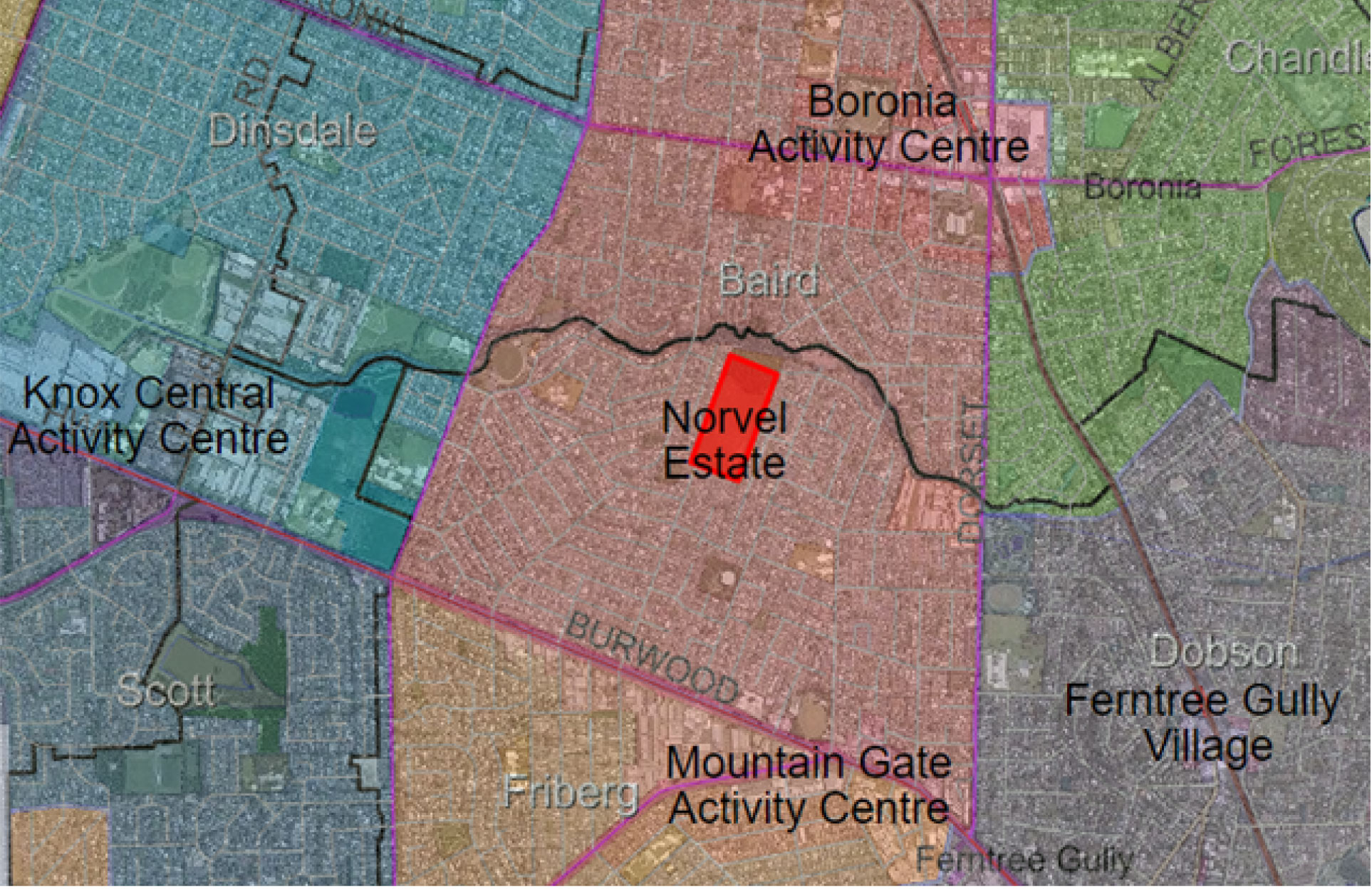 Map of Norvel Estate in Ferntree Gully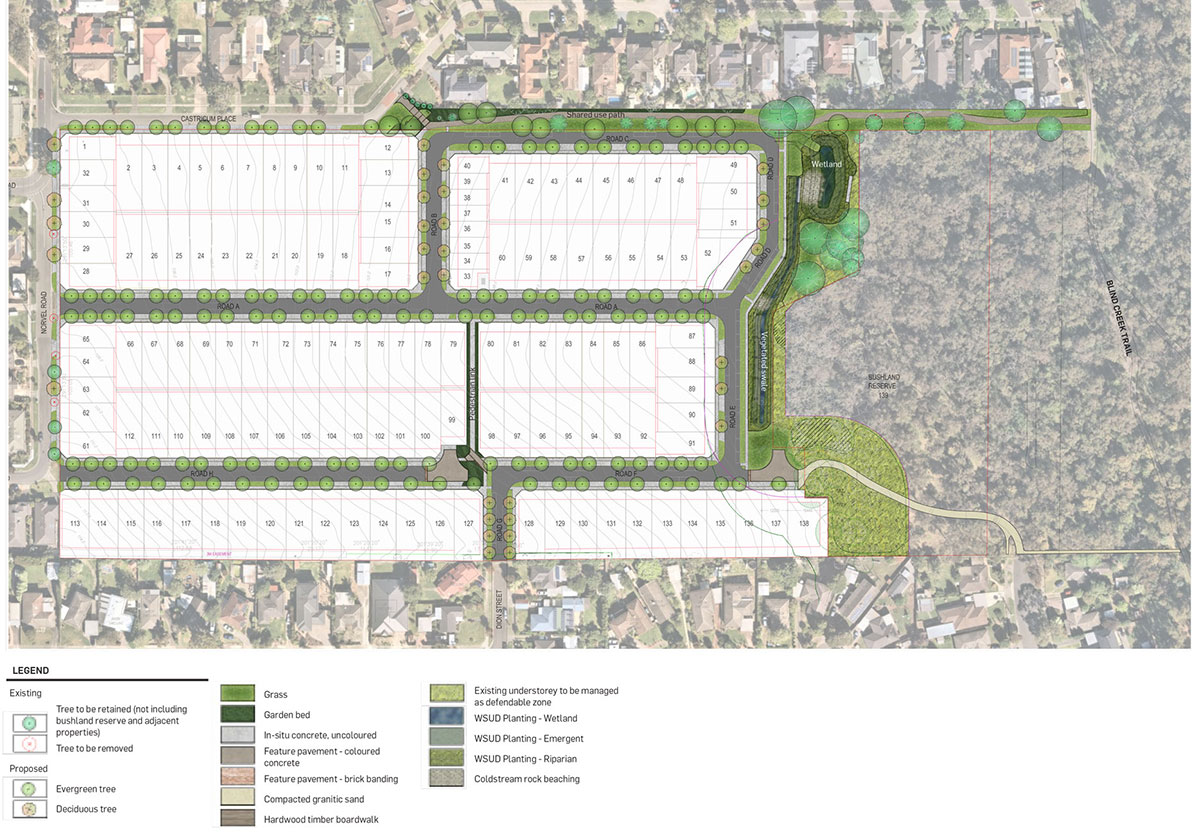 Proposed Norvel Estate landscape masterplan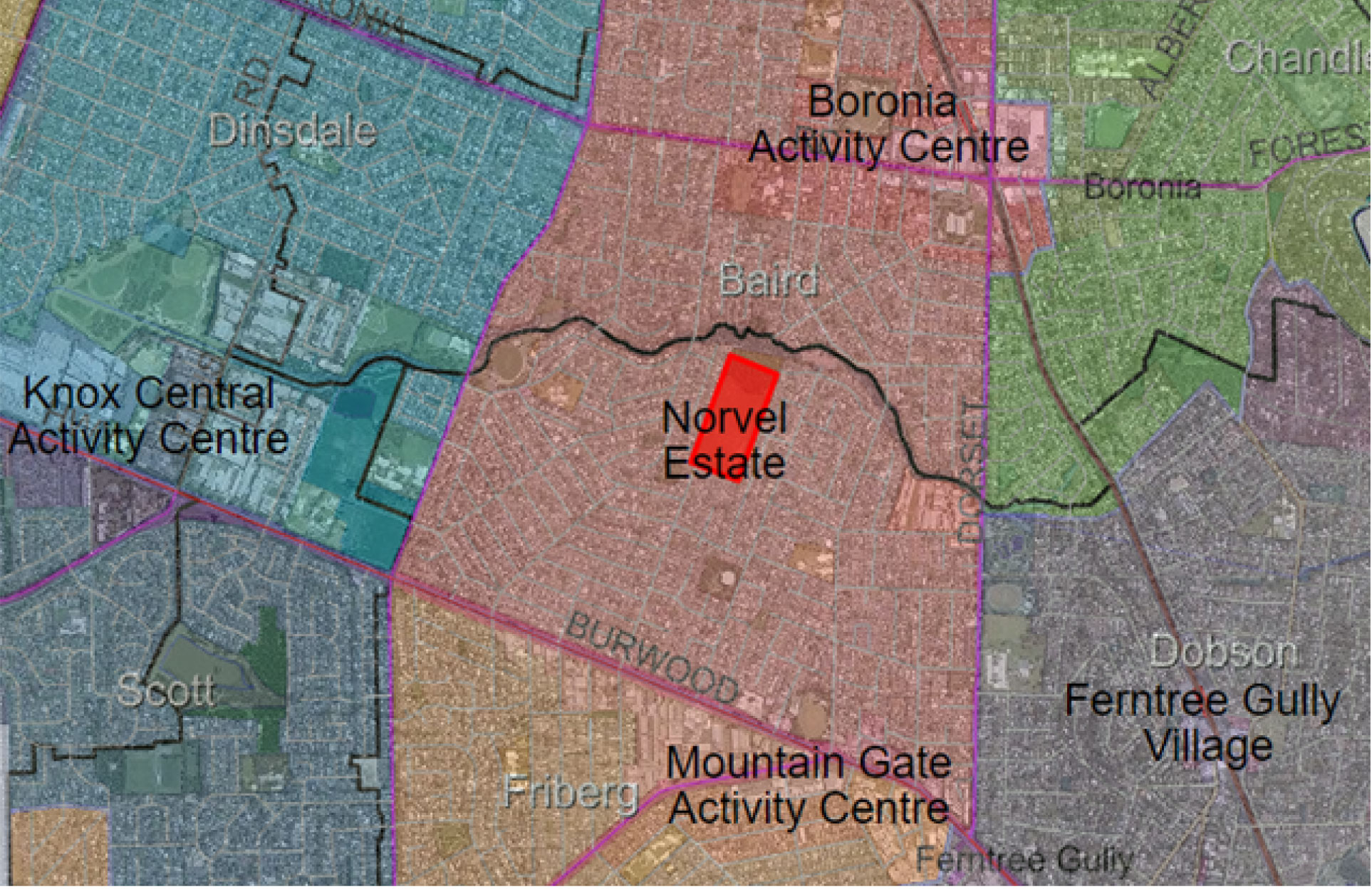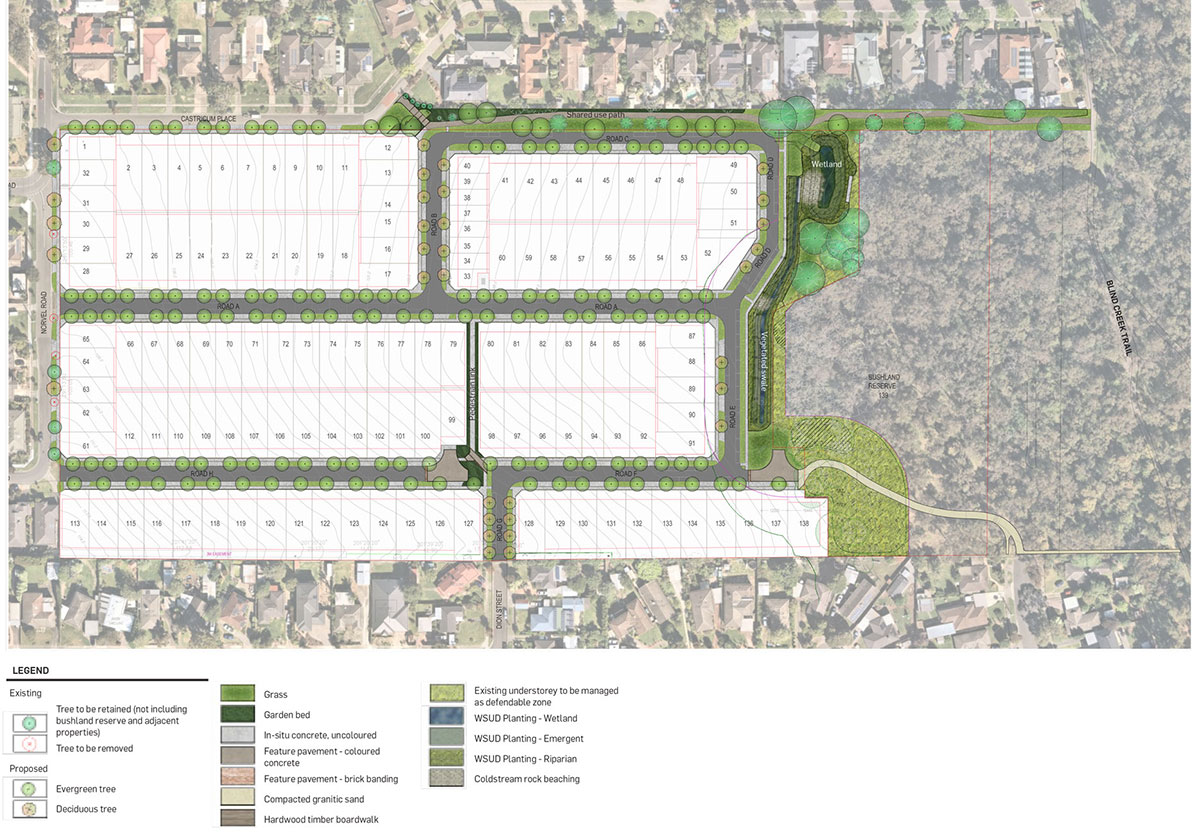 About the Application
The Application proposes:
a staged subdivision (including 138 residential lots) and associated works
building and works associated with the construction of pathways
vegetation removal in areas that are not in the biological significant area
Other proposals
Gift eight (8) lots to a Registered Housing Agency for the development and management of affordable housing for lower income Victorians. This initiative supports Council's Affordable Housing Action Plan and the strategic directions of the Knox Planning Scheme.
Provide a bushland reserve to Council for conservation purposes.
Provide new pathways for community members, and improving connectivity to the Blind Creek Trail.
Documentation for the Amendment and Application
You can view a copy of the Amendment and Application documentation online at the Department of Transport and Planning website
Further information
If you have any queries about Amendment C184knox, please contact Council's City Futures Department on 9298 8000 or email psamendments@knox.vic.gov.au
Timeline
Date
Action
Minutes
25 October 2021

Council resolved to:

end the current Section 173 Agreement recorded on the land and replace it with an updated Agreement, amending the Urban Design Guidelines for this Estate and increasing the bushland contribution.

View the Council minutes
22 November 2021

Council resolved to:

seek authorisation to prepare and exhibit the Amendment to the Knox Planning Scheme.
liaise with the landowner and key stakeholders to seek agreement to undertake recommended rescue of plants.

View the Council minutes
4 April 2022
Council received conditional authorisation from the Minister for Planning
 
14 June 2023 to 21 July 2023
The Amendment and Planning Permit Application are placed on exhibition
 
27 November 2023
Council to consider submissions received at the council meeting
 
Need help?
Lodge a request and we will get back to you.
Or call our City Futures team on 9298 8000.