Open for inspection and auction signs
Knox City Council requires a permit for 'open for inspection' and 'auction' signs placed on council land.
Council permits only portable free-standing (for example, A-frame) signs. These signs are not to exceed 900mm in height or 600mm in width.
Apply for a real estate agent open for inspection/auction signage (A-Frame) permit 
Other forms of temporary 'open for inspection' and 'auction' signs are not permitted on council land.
This includes signage secured into public assets (for example, staked into the ground).
Permit conditions
Signs can only be displayed on the day that the property is open for inspection or for auction. Times of the open for inspection or auction must be listed on the sign.
You must remove signs within one hour of completion of the event. We permit only three signs per property.
Where to place signs
You may place signs in the following positions:
one sign on a nature strip at each end of the roadway where the property is located, and
one sign between the front boundary (fence) of the property open for inspection and the adjacent kerb signs. These must be placed in positions that do not hinder or endanger the safety of the public.
Any other signs, such as a banner or flag, placed on the property, does not require a permit. However, they must not block the footpath or present a danger to the public.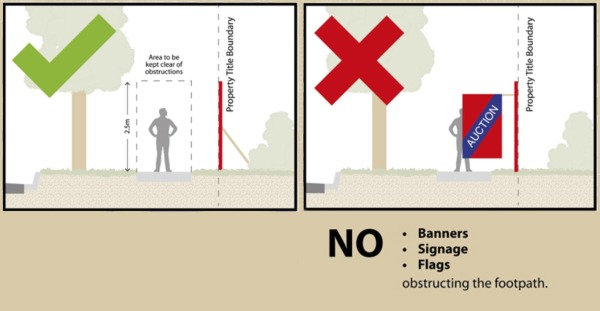 Real estate advertising boards
Real estate advertising boards are boards placed outside a property advertising it for sale, auction or lease.
Advertising boards are quite large and must be placed within or on the boundary or fence of the property.
They must follow planning provisions, but it may not always be possible to place the sign on the boundary.
Placing any sign beyond a property boundary (such as on Council land) requires a permit.
Such a permit will only be considered if the board can't be placed on the property boundary.
The sign is to predominantly advertise the property and not the real estate agent or agency.
Permits will be issued on a case by case basis and at Council's discretion.
Apply for a real estate advertising board permit
Permit conditions
You must consider the following when applying for a real estate advertising board permit:
one real estate advertising board is permitted per property. This must sit as close as possible out the front of the advertised property.
proof of Public Liability Insurance. This must be to the minimum value of $20 million providing principal's indemnity cover to Council.
the advertising board is not to be lit up, animated or contain any moving parts.
details of the board (including size) are to be provided to Council.
a diagram drawn to scale should show the location of the proposed board. It should also show property boundaries, the width of nature strip or road reserve, street signs, poles and any other relevant information.
real estate advertising boards will only be valid for a maximum period of three months.
signs are to be removed within 7 days of the property being sold or leased.
the size permitted for a real estate advertising board is 1800mm by 1200mm. Variations to this may only be considered in industrial and business zoned areas.
Where to place signs
Signs are not to be attached to any Council or public infrastructure, including:
trees
signs
lights
power poles.
Need help?
Contact us and we will get back to you.
Or call our Community Laws Department on 9298 8000.